Bookmark this page or copy and paste URL to Email message
Arizona Department of Agriculture files, Karnal bunt1996-1998
RG 9 SG 3 Series 1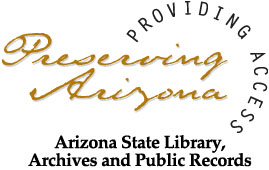 Creator:
Arizona Department of Agriculture

Title:
Karnal Bunt
Inclusive Dates:
1996-1998
Quantity:
11 linear feet
Abstract:
In 1996 the United States Department of Agriculture confirmed the presence of Karnal bunt at a seed dealership in southwestern Arizona. The Animal and Plant Health Inspection Service quarantined the State of Arizona, several counties in New Mexico, Texas and California. The Karnal bunt collection provides a record of the actions taken by the federal government and the State of Arizona, and insight into the response from other wheat-producing states.
Identification:
RG 9 SG 3 Series 1
Language:
English
Repository:
Arizona State Library, Archives, and Public Records
History and Archives Division
Arizona State Library, Archives, and Public Records
Polly Rosenbaum Archives and History Building
1901 W. Madison St.
Phoenix, Arizona 85009
Phone: (602) 926-3720
Fax: (602) 256-7982
E-Mail: archives@azlibrary.gov

---
Historical Note
On March 8, 1996 the United States Department of Agriculture confirmed the presence of Karnal bunt at a seed dealership in southwestern Arizona. It was found in Arizona durum wheat seed produced in the state in 1995. Karnal bunt is a fungal disease of wheat, durum wheat and triticale, which is a hybrid of wheat and rye. It is caused by the smut fungus Tilletia indica and is spread by spores which can be carried on a variety of surfaces including plants and plant parts, seeds, soil, elevators, buildings, farm equipment, tools and even vehicles. Spores can also be windborne although the sporidia are fragile and may be able to move only short distances. Infected plants produce less grain and the quality of the grain is affected. Flour made from bunted kernels is discolored and has an unpleasant, though harmless, fishy odor and taste. Typically, only a portion of the kernel is affected so the disease is sometimes called partial bunt.
The disease was first reported in 1931 in wheat growing areas near the city of Karnal, India. The disease has also been found in Pakistan, Iraq, Afghanistan and in northwestern Mexico. A number of countries prohibit or restrict the importation of wheat grain or seed from countries where Karnal bunt is known to occur. The U.S. is among the top three wheat-exporting countries, along with France and Canada. The finding in 1996 was the first evidence of the disease in the U.S. Concerns existed at the time that importing wheat countries would impose trade restrictions and seriously affect the US wheat market.
Governor Fife Symington and the U.S. Department of Agriculture (USDA) quickly declared an emergency which freed up funding and other resources to combat the disease. The Animal and Plant Health Inspection Service (APHIS) quarantined the State of Arizona, several counties in New Mexico, Texas and California, and restricted movement of grain and related equipment. The USDA established a panel of technical experts to determine the origin of the infection and develop an action plan. Governor Symington created a Task Force within the Arizona Department of Agriculture (ADA) to implement an action plan and monitor day-to-day activities of the quarantine.
The ADA received lab test results by fax from the state agriculture lab. The reports came in for several days and for many days, faxes were received hourly. On March 19, thirteen reports were received; on March 20, eighteen were received; March 21, twelve were received; and so it continued for the rest of March and into April, 1996. Director Keith Kelly received the fax and copies were distributed to staff and task force members.
---
Scope and Content
The 11 boxes of the Karnal bunt collection provide a record of the actions taken by the federal government and the State of Arizona and insight into the response from other wheat-producing states.
Three issues stand out in this collection: first, the Karnal Bunt State Task Force, appointed to develop an action plan and monitor day to day activities of the quarantine and the state's response; second, the research and discussion on whether the spores found in Oregon's rye grass were the same species as those found in Arizona wheat; and third, the extensive correspondence, communication and debate among growers (local and across the U.S.), the scientific community and federal and state governments. The collection includes correspondence from a number of well-known local and national individuals, including US Congressman Bob Stump, Arizona Governor Fyfe Symington and Mr. Isi Siddiqui, who was with the California Department of Agriculture at the time (See SS 5).
---
Arrangement
Subseries Descriptions

Subseries 1, Director Keith Kelly and Project Manager Ken Boyd subject files, 4.5 linear feet; some of Director Kelly's subject files included information that appears to have originated from Project Manager Ken Boyd. Mr. Boyd's files are in SS 5.

Subseries 2, State Agricultural laboratory field tests and seed sample reports, .75 linear feet.

Subseries 3, Department of Agriculture Staff files, 2.25 linear cubic feet. Contains working files of Keith Meyer, Education Outreach Specialist for the ADA.

Subseries 4, Department of Agriculture Staff files, 1.25 linear feet. Contains working files of John Hagen, Deputy Director of the ADA.

Subseries 5, Department of Agriculture Staff files, 1.5 linear feet. Includes working files of Ken Boyd, Karnal bunt Project Manager and liaison to the USDA.

Subseries 6, Meetings files. Town Hall meetings, Growers' meetings, USDA/ADA Meetings, .25 linear feet. Includes background information, agendas and meeting notes.

Subseries 7, Director Keith Kelly's notebook, .25 linear feet.
---
Access Restrictions
All photocopies of original materials are made by staff. We reserve the right to refuse copy services based on physical condition and possible damage to the materials.
For preservation purposes, if microfilm copies are available, patrons will use the microfilm first.
Under Arizona Revised Statute 39-141, public records used for commercial purposes have additional requirements. Please contact the Arizona State Archives for further information.
Copyright
It is the researcher's responsibility to determine the copyright status of materials he or she uses. The Arizona State Library, Archives and Public Records is not legally or financially responsible for any copyright infringement by researchers.
Many documents held by the Arizona State Archives fall under the Public Record law (ARS 41-1350). Documents created by the government are not copyrighted. The United States of America Copyright Law (P.L. 94-553, effective Jan. 1, 1978) extends statutory rights of authority to unpublished works which were previously protected by literary property rights under common law. Such works do not have to be registered with the Copyright Office to receive protection under the law.
---
Six cassette tapes and seven minicassette tapes, of meetings in July and August 1996 and February 1997, were placed in Box 11.
---
Controlled Access Terms
Geographic Name(s)
Arizona
Subject(s)
Karnal bunt.
---
Credit Line
Bibliographic citations must cite the title of the record group(s), the box or volume number, the History and Archives Division and the name of the Arizona State Library, Archives and Public Records in full. Please use the following example:
Governor George W.P. Hunt to Ely Sims, November 21, 1919, Box 14, Office of the Governor, RG 1, History and Archives Division, Arizona State Library, Archives and Public Records.
Provenance
The Arizona Department of Agriculture delivered 13 boxes of records to ASLAPR in 1999. Eleven boxes contained documents related to Karnal bunt, including subject files, state agricultural laboratory field test results and correspondence. The files were created and maintained by Department staff, including Director Keith Kelly, Deputy Director John Hagen, Karnal bunt project manager Ken Boyd and Public Information Officer Keith Meyer.
Accession A-1999-004
Processing Information
The Arizona Department of Agriculture (ADA) delivered 13 boxes of records to the Arizona State Library, Archives and Public Records. Eleven boxes contained documents related to the discovery of Karnal bunt in Arizona wheat fields in 1996. Two boxes contained documents generated by the Department, but were unrelated to Karnal bunt. Those two boxes contained administrative records of the Director's office (calendars, building facilities, federal grants, risk management, travel), and other files related to biofuels, the Commission on the Arizona Environment, and meat and poultry audits from 1995.
Of the eleven boxes related to Karnal bunt, four contained subject files, organized, alphabetized and labeled from the office of Director Keith Kelly. Two boxes contained reports from the state agricultural laboratory on field tests and spore counts. Three boxes contained files from other Department staff – Ken Boyd who was the Karnal Bunt project manager for the state and liaison with the USDA; Keith Meyer who was the Education Outreach Specialist and Public Information Officer; and John Hagen who was the Deputy Director of the Department. When received, Mr. Hagen's files were not organized to a fine level of detail, but were grouped into general categories. Many are quite large. Mr. Hagen's original order is retained with the exception of the "correspondence" files which were organized by date during processing. Mr. Hagen's keywords were used to a large extent. Please note, some of the documents found in Mr. Hagen's files may also be found in other sub-series.
Director Kelly's working file consisted of a file with a metal clasp that held papers that had two holes punched in the top. This file was approximately five inches thick. In order to facilitate review and copying, the documents were removed from the original folder and organized by date, as subseries 7.
In the final box processed there were several bright green file folders tagged with red Avery labels. Those files became subseries 6 – Meetings. Mixed in with these folders were additional papers that appear to be part of the Director's working files. In addition to the files were six cassette tapes and seven minicassette tapes. The minicassette tapes are found in Box 9, folders 282 and 284. The cassette tapes, of meetings in July and August 1996 and February 1997, were separated and placed in Box 11.
Most of the files were organized into labeled folders. There is some duplication among the staff files and the Director's files. The remaining boxes contained files, folders and correspondence that do not appear to be associated with any particular staff person. Those were organized by topic.
---
Container List
Director Keith Kelly subject files, 1996-1998
Box
1:1
Activity report, quarterly, June 30, 1996
Box
1:2
Administrative order; drafts and final, 1996
Box
1:3
Administrative order; draft and final, Nov. 27, 1996
Box
1:4
Agricultural Summit Kansas City. Includes White paper on Karnal bunt prepared by ADA for USDA, 1996
Box
1:5
American Phytopathological Society (APS) Symposium. Online discussion of Karnal bunt, wheat and grasses, 1997
Box
1:6
American Phytopathological Society position statement and ADA fax, May 1997
Box
1:7
Arizona proposal, Sep 1996
Box
1:8
Arizona/USDA eradication reports; weekly lab reports; field test reports; correspondence; flyers, 1996
Box
1:9
Arizona/USDA eradication reports; continued, undated
Box
1:10
Arizona Wheat Growers Association, 1996-1997
Box
1:11
Bay State Milling Co. MA Local milling in Tempe and Tolleson. Correspondence; agreements, 1996
Box
1:12
Ken Boyd work hours, 1996-1997
Box
1:13
Budget; payroll; appropriations; funding reports for Karnal bunt program (reverse order), 1996
Box
1:14
Budget; payroll; continued, 1997
Box
1:15
Bunted wheat kernel reports (reverse order), 1996-1997
Box
1:16
Chemicals; treatment, 1996
Box
1:17
Compensation. Articles; publications; federal register; correspondence, 1996-1997
Box
1:18
Compliance agreements. Various (disk), 1996-1997
Box
1:19
Compliance agreements – USDA/APHIS (disk), 1996-1997
Box
1:20
Compliance agreements – Arizona, May – June 1996
Box
1:21
Compliance agreements – federal correspondence; grain testing flow chart; sample status reports, 1996-1997
Box
1:22
Cooperative agreement between USDA and AZ. Drafts; correspondence; handwritten notes, 1996-1997
Box
1:23
Custom harvesters (combines). Correspondence from and lists of AZ harvesters, 1996-1997
Box
1:24
Data and reports – extensive. Weekly status; National Agriculture Statistics Service; harvest sample results report; wheat production estimates; permits and certificates issuance report; trace back reports, 1996
Box
1:25
Harvest sample results by farm; permit and certificate issuance report, July 1996
Box
1:26
Delaney clause. California Farmer article, Sep 1996
Box
1:27
Directories – Karnal Bunt Task Force; members; meeting notes; appointments; strategies; memos *See also: "Task Force" folders in this subseries and others, 1996
Box
2:28
Economic Impact panel report, Nov 1996
Box
2:29
Exports – correspondence, 1996
Box
2:30
Final rule – USDA, 1996
Box
2:31
Final rule – USDA; comments correspondence, articles. *See also "Interim Rules" folder, 1996
Box
2:32
Grain treatment process, 1996
Box
2:33
Grasses – Karnal bunt relationship to Oregon ryegrass seed, 1996
Box
2:34
Internet news on Karnal bunt – Wilbur Sherman, 1996-1997
Box
2:35
1997 Interim rule – includes comments and correspondence. Modifies 1996 final federal rule. See also folder 2:30., 1997
Box
2:36
Investigations – specific farms and warehouses in AZ, CA, CO. Extensive hand-written notes, 1996
Box
2:37
International Plant Protection Convention (IPCC) comments., 1997
Box
2:38
Killing spores – methods; hot air; infrared. Includes background information and chronology, 1996-1997
Box
2:39
Laboratory manual memo, 1997
Box
2:40
Litigation (1) – Lawsuits filed by AZ Department of Agriculture against USDA; suit filed by Cheyenne Farming Co. against AZ Department of Agriculture; claims from harvesters and farmers (Hininger, Martori) correspondence re: field and harvest sampling, 1996-1997
Box
2:41
Litigation (2) – meeting minutes; National Plant Board Council, 1996
Box
2:42
Litigation (3) – Cheyenne Farming v State of AZ; Ken Boyd deposition; documents; correspondence; director's administrative order, 1996-1997
Box
2:43
Litigation (4) – Wheat Growers v USDA. Handwritten notes; summons; complaint; preliminary injunction; motion for accelerated hearing; memorandum in support of preliminary injunction; motion to exceed page limitation; application for preliminary injunction and order to show cause, Nov 1996
Box
2:44
Management letters. Various topics, 1996-1998
Box
2:45
Meetings – handwritten notes; correspondence; task force, Oct – Dec 1996
Box
2:46
Miscellaneous information on Karnal bunt – correspondence; news articles; reports, 1995-1997
Box
2:47
Minutes – Joint meeting National Plant Board Council and Plant Protection and Quarantine (PPQ) strategy team. Maryland, April 1997
Box
2:48
National Survey – National survey plan; national survey samples; USDA/APHIS survey results; final regulations for 1996-97 crop year, 1996-1997
Box
2:49
National Association of Wheat Growers (NAWG) presentation by Ken Boyd to NAWG annual summer leadership conference, Sun Valley ID, 1996-1997
Box
3:50
Other states (1) – AL, CA, ID, KS, MT, NC, OR, TN, TX, WA. Pasture mix; ryegrass, wheat, row crops; small grains; articles, correspondence, 1996-1997
Box
3:51
Other states (2) – Oregon correspondence, 1996-1997
Box
3:52
Permits and certificates reports, 1996
Box
3:53
Plant breeders. Breeder seed; correspondence, 1996-1997
Box
3:54
Position papers. Includes Karnal bunt chronology from March 1996 to June 1997; AZ Wheat Growers white paper, June 1997; AZ position paper with notes, distribution, feedback and comments, including handwritten notes; National Plant Board paper, January 1997, 1996-1997
Box
3:55
Public forums on Karnal bunt. USDA Task Force; APHIS press release; Washington DC transcripts. 65 pages, 1996-1997
Box
3:56
Public forums on Karnal bunt. USDA Task Force Phoenix AZ transcripts. 38 pages, Aug 14, 1996
Box
3:57
Public forums on Karnal bunt. USDA Task Force Imperial, CA transcripts. 46 pages, Aug 15, 1996
Box
3:58
Public forums on Karnal bunt. USDA Task Force Kansas City, MO transcripts. 26 pages., Aug 13, 1996
Box
3:59
Public forums on Karnal bunt. USDA Task Force. Las Cruces, NM transcripts. 36 pages, Aug 20, 1996
Box
3:60
Quarantine – federal register; correspondence; maps, 1996-1997
Box
3:61
Railcar issues – correspondence regarding railcar shipment of wheat from quarantined areas; protocol; task force memos, July – Sept 1996
Box
3:62
Regulatory programs – correspondence; press releases; USDA, Mexico and various states, 1996-1997
Box
3:63
Research (1) – fungicide treatment; resistance spore removal; USDA task force memos; 1996 Crop Quality Report – US Wheat Association; USDA Task Force correspondence; Economic impact study by Bruce Beattie for Barkley Seed, 1996
Box
3:64
Research (2) – Compendium of Wheat Diseases by MV Wiese (n.d.); AZ Department of Agriculture news releases; field sampling equipment, 1997
Box
3:65
Response to growers. Letters from Director Keith Kelly, April 1996
Box
3:66
Response to growers (continued). Letters from Director Keith Kelly, 1996
Box
4:67
AZ response to federal rule re: quarantine. Correspondence from AZ Department of Agriculture, 1996
Box
4:68
Response to federal rule re: quarantine from various organizations and farmers. Presentation to National Association of State Departments of Agriculture, 1996 – 1997
Box
4:69
Risk assessments. University of California- Riverside Study in Karnal bunt. APHIS report – preliminary risk assessment. May 1996, 36 pages. APHIS report – Risk of outbreak in states receiving grain from milling from quarantine areas. May 14, 1996, 1996
Box
4:70
Rules – interim and final federal rules, 1996-1997
Box
4:71
Ryegrass – Wheat spores. Correspondence and research related to the connection among grasses, wheat and Karnal bunt spores. Reverse chronological order, May-Aug 1997
Box
4:72
Ryegrass – Wheat spores (continued), Feb – Mar 1997
Box
4:73
Ryegrass – Wheat spores (continued), Jan 1997
Box
4:74
Ryegrass – Wheat spores (continued), 1996
Box
4:75
Safety procedures, May – June 1996
Box
4:76
Sampling – correspondence, notes and reports re: procedures, methods, field testing, hand sampling, assumptions, sample size, strategy, patterns, 1997-1998
Box
4:77
Sampling (continued), 1996
Box
4:78
Science Panel – correspondence, draft and final version of panel report. USDA Karnal Bunt Science Panel Report, 1996
Box
4:79
Seed – analysis, treatment, seed safety study, regulations, history of ryegrass imports, 1997
Box
4:80
Symposium – APS presentations, papers, symposium background, 1996
Box
4:81
Symposium – Bunts and Smuts, 1997
Box
4:82
Task Force – ADA subcommittee. Response to quarantine, correspondence, memos, June 1996
Box
4:83
Task Force ADA subcommittee, July 1996
Box
4:84
Task Force ADA subcommittee, Aug 1996
Box
4:85
Task Force ADA subcommittee, Sep 1996
Box
4:86
Task Force ADA subcommittee, Jan 1997
Box
4:87
Task Force ADA subcommittee, Feb 1997
Box
4:88
Task Force ADA mailings, 1996-1997
Box
4:89
TCK Smut (tilletia controversa kuhn); China's trade embargo; Chile; European Union, 1995-1996
Box
4:90
Technical issues. Diseases, treatment, prevention, 1996-1997
Box
4:91
Testing results and reports, 1996
Box
4:92
Transportation issues, 1996-1997
Box
5:93
Updates on Karnal bunt, 1996-1997
Box
5:94
Visitors, 1996
Box
5:95
Western Plant Board correspondence, 1996
Box
5:96
Western Plant Board meeting. 1983 Action Plan; 1988 survey plans, Karnal bunt Task Force; Ken Boyd documents, April 1996
Box
5:97
Work areas and work plans, 1996-1997
State Agricultural laboratory field tests and seed sample reports, 1996-1998
Box
5:98
Lab samples and reports – miscellaneous and undated reports; correspondence, undated
Box
5:99
Lab reports, March 18, 1996
Box
5:100
Lab reports, March 19, 1996
Box
5:101
Infected seed and summary reports, March 19, 1996 and March 20, 1996
Box
5:102
Lab reports, March 20, 1996
Box
5:103
Lab reports, March 21, 1996
Box
5:104
Lab reports, March 22, 1996
Box
5:105
Summary report, March 26, 1996
Box
5:106
Sample lab results; lab samples/movement report, summary report/border samples, April 1, 1996
Box
5:107
Barkely seed reports, April 4-5, 1996
Box
5:108
Sample reports by farm, April 5, 1996
Keith Meyer files, 1996-1998
Box
5:109
Agricultural Wheat Summit, Kansas City, white paper Amrican Phytopathological Society (APS) position paper, correspondence. See also Box 1 folders 6, 9 and 10 for related information., 1996
Box
5:110
Arizona perspective , June-Sep 1996
Box
5:111
Bay State Milling Company correspondence, 1996
Box
5:112
Chronology and highlights – Karnal bunt, USDA, 1996
Box
5:113
Compensation, 1996
Box
5:114
Compliance agreements, harvest and sanitizing protocols for combines, feed lot/feed processors, growers, storage facilities, US port elevators and trucks (interstate and intrastate), 1996
Box
5:115
Correspondence, n.d.
Box
5:116
Correspondence, March 1996
Box
5:117
Correspondence, April 1996
Box
5:118
Correspondence, May 1996
Box
5:119
Correspondence, June 1996
Box
5:120
Correspondence, July 1996
Box
5:121
Correspondence, August 1996
Box
5:122
Correspondence, September 1996
Box
5:123
Correspondence, October 1996
Box
5:124
Correspondence, November 1996
Box
5:125
Correspondence, December 1996
Box
5:126
Correspondence, Jan – Feb 1996
Box
6:127
Employee newsletters, April-May 1996
Box
6:128
Employee/staff meeting notes, 1996
Box
6:129
Eradication program. USDA field tests, May 1996
Box
6:130
Eradication program. USDA and AZ Department of Agriculture reports; USDA/APHIS update, May 16-23 1996 July 2, 1996
Box
6:130 A
Eradication program. USDA and AZ Department of Agriculture Karnal bunt cooperative eradication program, May 17, 1996
Box
6:131
Eradication basic information, July 1996
Box
6:132
Grower information - district maps; grower information by work unit (map); quarantine areas (map), April-May 1996
Box
6:133
Grower letter; fax distribution list, April 24, 1996
Box
6:134
Grower meetings – correspondence, handouts, other states information, October 1996
Box
6:135
Harvest/preharvest tests and statistics; testing flow chart, April-June 1996
Box
6:136
Harvesters. Correspondence, including Zella Hininger, May-July 1996
Box
6:137
Information packet from AZ Department of Agriculture, n.d.
Box
6:138
Information packet from USDA meeting in Minneapolis, April 1996
Box
6:139
Karnal bunt – initial folder as incident unfolded, March 1996
Box
6:140
Land values. Offer from appraiser, May 1996
Box
6:141
Lawsuit, correspondence, strategy, 1996
Box
6:142
Milling; compliance and correspondence, 1996
Box
6:143
Monthly file; proposed rule; internet news, USDA wheat grower response, August 1996
Box
6:144
National Karnal bunt survey results (reverse order). Data from National Agricultural Pest Information System; weekly status report by county; correspondence re: uses of contaminated wheat in refuges, fish ponds, hog feeding operations, September – December 1996
Box
6:145
News articles, press releases and situation report updates. USDA and National Agricultural Statistics Service, March – July 1996
Box
6:146
News articles, press releases and situation report updates (continued), August 1996 to January 1997
Box
6:147
News articles; press releases; fact sheets. Comprehensive AZ Republic article by Jane Larson dated July 7, 1996, March – December 1996
Box
6:148
Other states. Infestation, opinions and positions on Karnal bunt. CA, 1996
Box
6:149
Other states and nations. Infestation, opinions and positions on Karnal bunt. AL, AZ, ID, KS, MT, NE, ND, OR, SD, TN, TX, WA, South Africa, Canada, Mexico. Includes University of Arizona College of Agriculture report dated December 1996, 1996
Box
6:150
Public forums, July-August 1996
Box
6:151
Quarantine (1) Cooperative agreements, comments, correspondence, responses to rule., March-April 1996
Box
6:152
Quarantine (2), May 1996
Box
6:153
Quarantine (3), June-Aug 1996
Box
6:154
Quarantine (4), September 1996-January 1997
Box
6:155
Quarterly activity report – AZ Department of Agriculture, June 30, 1996
Box
6:156
Rules and regulations – Federal register, compensation. 96-16-3; 96-16-6; 96-16-7; 96-16-8; 96-16-10; 96-16-14; 96-16-18; 96-16-25, 1996
Box
6:157
Rules and regulations – Federal correspondence, July-October 1996
Box
6:158
Ryegrass – correspondence, articles, laboratory guide, 1996-1997
Box
7:159
Sample reports – positive and negative fields, May 1996
Box
7:160
Seed protocol – testing, flow chart; compliance agreement, May-July 1996
Box
7:161
Special events planning, March 1996
Box
7:162
Symposium papers; National Plant Board, 1996
Box
7:163
Task Force, March 1996
Box
7:164
Task Force, April 1996
Box
7:165
Task Force, June-Oct 1996
Box
7:166
Task Force – graphics, maps, photos, flow charts, overhead, n.d.
Box
7:167
Task Force – Arizona grain, 1996
Box
7:168
Treatment protocols, n.d.
Box
7:169
Updates – masthead, 1996
Box
7:170
Update 1, April 29, 1996
Box
7:171
Update 2, May 6, 1996
Box
7:172
Update 3, May 9, 1996
Box
7:173
Update 4, May 13, 1996
Box
7:174
Update 5, May 16, 1996
Box
7:175
Update 6, May 20, 1996
Box
7:176
Update 7, May 23, 1996
Box
7:177
Update 8, May 28, 1996
Box
7:178
Update 9, May 30, 1996
Box
7:179
Update 10, June 3, 1996
Box
7:180
Update 11, June 6, 1996
Box
7:181
Update 12, June 7, 1996
Box
7:182
Update 13, June 10, 1996
Box
7:183
Update 14, June 13, 1996
Box
7:184
Update 15, June 17, 1996
Box
7:185
Update 16, June 19-20, 1996
Box
7:186
Update 17, June 24, 1996
Box
7:187
Update 18, July 1, 1996
Box
7:188
Update 19, July 8, 1996
Box
7:189
Update 20, July 15, 1996
Box
7:190
Update 21, July 22, 1996
Box
7:191
Update 22, August 6, 1996
Box
7:192
Update 23, October 10, 1996
Box
7:193
USDA meeting, May 29, 1996
Box
7:194
White papers – USDA, ADA and others, 1996
Box
7:195
Work plan – includes Gov. Symington emergency declaration March 13, 1996; expenditures; memos, March – May 1996
John Hagen, Deputy Director, subject files, 1996-1998
Box
7:196
Action plan, 1983
Box
7:197
Administrative order, 1996
Box
7:198
APHIS publications , 1992
Box
7:199
Budget/Finance, 1996
Box
7:200
Contracts – RFP form, n.d.
Box
7:201
Cooperative agreement – Drafts, memos, correspondence, March-May 1996
Box
7:202
Correspondence – notes, articles, press releases, March – August 1996
Box
7:203
Correspondence, April – May 1996
Box
7:204
Correspondence, September-December 1996
Box
7:205
Correspondence, January – March, 1997
Box
7:206
Correspondence, April – July 1997
Box
7:207
Correspondence, August 1997
Box
7:208
Correspondence, August 1997
Box
7:209
Expenditures, July – August 1996
Box
8:210
Facilities and office space needs, memos, handwritten notes, April 1996
Box
8:211
Grain Council meetings and expenses, April – May 1996
Box
8:212
Lawsuit, 1996
Box
8:213
Meeting agendas, minutes, reports, March – June 1996
Box
8:214
Meeting agenda and quarterly report, July 1996
Box
8:215
Meetings – Staff notes, correspondence related to various meetings and task force activity, Summer 1997
Box
8:216
Meeting notes and weekly activity, July 28-August 1 1997
Box
8:217
Memos, March – May 1996
Box
8:218
Organization chart (handwritten), n.d.
Box
8:219
Personnel and payroll, memos and reports, 1996-1997
Box
8:220
Phone numbers and contact info for staff, congressmen and stakeholders, 1996
Box
8:221
Progress reports – quarterly and statistics, June 30, 1996 July 1996
Box
8:222
Ryegrass – arguments, correspondence with other states and USDA, 1996 and 1997
Box
8:223
Ryegrass – continued, 1996 and 1997
Box
8:224
Science briefing, April 1996
Box
8:225
Task Force (1) John Hagen's 3-ring binder, 1996
Box
8:226
Task Force (2) Notes, 1996
Box
8:227
Task Force (3) January 30 1997 meeting, January 1997
Box
8:228
Work plans, 1996-1997
Ken Boyd, Project Manager subject files, 1996-1998
Box
8:229 (a)
Agricultural inspection (USDA) report, May 1997
Box
8:229 (b)
Arizona agricultural facts, September 1997
Box
8:230
Background – questions and answers, viewpoints, undated
Box
8:231
Budget and funding, correspondence, costs, emergency declaration, memos, May 1996 – September 1997
Box
8:232
Compensation, April 1996 – May 1997
Box
8:233
Cooperative agreements USDA – 96-8542-0388 CA, May 1996
Box
8:234
Contacts, n.d.
Box
8:235
Correspondence, 1996-1997
Box
8:236
Economic impact report-Barkley Seed Co., November 1997
Box
8:237
Growers/Grain Council, 1996-1997
Box
8:238
Litigation, 1996
Box
8:239
National Association of State Departments of Agriculture, 1996-1997
Box
8:240
News clippings, March 1996-April 1997
Box
8:241
Pesticides – EPA proposed rule, March 1996
Box
8:242
Press releases and news articles, 1996-1997
Box
8:243
Position statements, April 1996 – February 1997
Box
8:244
Quarantine – ADA Administrative Order, 1996
Box
8:245
Quarantine – Alabama, undated
Box
8:246
Quarantine – Arizona. Grain Research Council, Western Growers, Arizona Crop Improvement, 1996
Box
8:247
Quarantine – APHIS/USDA , 1996
Box
8:248
Quarantine – California. Mr. Isi Siddiqui, CA Department of Agriculture, 1996-1997
Box
8:249
Quarantine – Colorado, July 1996
Box
8:250
Quarantine – Compliance order, 1996
Box
8:251
Quarantine – Florida, 1996
Box
8:252
Quarantine – Georgia, 1997
Box
8:253
Quarantine – Idaho, 1996
Box
8:254
Quarantine – Illinois, 1996
Box
8:255
Quarantine – International. Africa, European Union, Italy, Mexico, 1996-1997
Box
8:256
Quarantine – Kansas, 1996
Box
9:257
Quarantine – Montana, 1996
Box
9:258
Quarantine – Nebraska, 1996
Box
9:259
Quarantine – North Dakota, 1996-1997
Box
9:260
Quarantine – Oklahoma, 1996
Box
9:261
Quarantine – Oregon, 1996-1997
Box
9:262
Quarantine – Position statements, 1996
Box
9:263
Quarantine – Press releases. Includes quarantine lifted April 25, 1997, Nov 1996 – April 1997
Box
9:264
Quarantine – Reclassification request, August 1996
Box
9:265
Quarantine – Risk assessment report. USDA, May 1996
Box
9:266
Quarantine – Sampling and seed tests, 1996
Box
9:267
Quarantine – Science panel, 1996
Box
9:268
Quarantine – Science briefing USDA, April 1996
Box
9:269
Quarantine – South Carolina, March 1996
Box
9:270
Quarantine – Texas, 1996 – 1997
Box
9:271
Quarantine – Washington, April-May 1996
Box
9:272
Task Force – organization chart, March 1996
Box
9:273
Task Force – contacts, notes, n.d.
Box
9:274
Task Force - meeting notes, minutes, correspondence, March 1-21, 1996
Box
9:275
Task Force , March 22-31, 1996
Box
9:276
Task Force – includes shorthand notes, April 1996
Box
9:277
Task Force , May 1996
Box
9:278
Task Force, June 1996
Box
9:279
Task Force – 2 cassette tapes moved to Box 11, July 1996
Box
9:280
Task Force – 2 cassette tapes moved to Box 11, August 1996
Box
9:281
Task Force , September 1996
Box
9:282
Task Force – includes 5 mini-cassette tapes, October 1996
Box
9:283
Task Force , December 1996
Box
9:284
Task Force – includes 2 mini-cassette tapes, January 1997
Box
9:285
Task Force - 2 cassette tapes moved to Box 11, February 1997
Box
9:286
Task Force , March 1997
Box
9:287
Task Force , July 1997
Box
9:288
Task Force , August 1997
Box
9:289
Task Force , September – October 1997
Box
9:290
Task Force – Director's notebook. Speeches, correspondence, memos, May – August 1996
Box
9:291
Timeline – handwritten notes, March – April 1996
Box
9:292
USDA correspondence, April – July 1996
Box
9:293
Wheat brochure, June 1995
Box
9:294
Wheat statistics, 1995-1996
Box
9:295
White paper on Karnal bunt. Author Keith Kelly, Director, Arizona Department of Agriculture, May 1996
Meetings. Town meetings, growers' meetings, ADA meetings., 1996-1998
Box
9:296
Undated documents from meeting files, undated
Box
9:297
USDA/ADA Karnal bunt town hall meetings in Yuma, Casa Grande, Coolidge, and Phoenix Correspondence, agendas, contact information, intra and interstate compliance agreements, requests for assistance, April 1996
Box
9:298
Meetings. Coordination meetings, public meetings, USDA Assistant Secretary Michael Dunn, marketing and regulatory programs, May 1996
Box
9:299
Meetings. Terminal Elevator Grain Merchants Association, May 9, 1996
Box
9:300
Meetings. Joe Glauber, USDA, May 30, 1996
Box
9:301
Meetings. Director travel requests, June 1996
Box
9:302
Meetings. South African Karnal bunt technical team, June 1, 1996
Box
9:303
Meeting. Review of 1996 Arizona wheat harvest, staffing, June 25, 1996
Box
9:304
Meetings. Wheat summit, Kansas City, MO, July 1996
Box
9:305
Meetings. Federal register, USDA Karnal bunt public forums, agenda, correspondence, press releases, compliance agreements, quarantine, August 1996
Box
9:306
Meetings. Correspondence, rail car compliance, USDA/ADA Task Force, Gov. Symington trip to DC, Arizona proposal, cancellation, September 1996
Box
9:307
Meetings. Venezuelan team, September 1996
Box
9:308
Meetings. Arizona Wheat Growers first annual meeting, October 1996
Box
9:309
Meetings. Correspondence, agendas, September administrative order, Tennessee news release, October – December 1996
Box
9:309 A
Meetings. Correspondence, Directors travel requests, attendance sheet, handwritten notes, USDA/ADA Karnal bunt meetings Washington DC and Atlanta Georgia, February – April 1997
Director Keith Kelly's working files and notebook (reverse order), 1996-1998
Box
9:310
Director's working file. Notes, correspondence, strategy, March 7-18, 1996
Box
10:311
Director's working file. Correspondence, memos, white paper, federal order, March 20-27, 1996
Box
10:312
Director's working file. Correspondence, notes, meeting agendas, recommendations, April 1-16, 1996
Box
10:313
Director's working file. Special risk assessment paper, trace back report, t-shirt order form, notes, May-July 1996
Box
10:314
Field sampling reports, May-July 1996
Box
10:315
Quarantine comments, correspondence, Gov. Symington letters to USDA, meeting notes, May-July 1996
Box
10:316
USDA/ADA Cooperative Agreement, June 1996
Box
10:317
USDA regulations, correspondence, federal rule, 1996-1997 crop year