Bookmark this page or copy and paste URL to Email message
Governor's Office, Benjamin Joseph Franklin, RG 1 SG 3, 1896-1897
RG 1 SG 3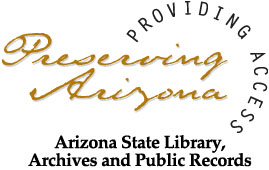 Creator:
Franklin, Benjamin Joseph
Title:
Governor's Office, Benjamin Joseph Franklin, RG 1 SG 3
Inclusive Dates:
1896-1897
Quantity:
.5 Linear Ft.
Abstract:
This collection contains bound copies of Governor B.J. Franklin's letters while serving as Territorial Governor.
Identification:
RG 1 SG 3
Language:
English
Repository:
Arizona State Archives
Arizona State Library, Archives and Public Records
Polly Rosenbaum Archives and History Building
1901 W. Madison Street
Phoenix, Arizona 85009
Phone: (602) 926-3720
Fax: (602) 256-7982
E-Mail: archive@lib.az.us

---
Biographical Note
Benjamin Joseph Franklin was born in 1839 in Kentucky. He is believed to have attended both private and public schools and taught school briefly. At the start of the Civil War, Franklin was a lawyer in Leavenworth, Kansas. He joined the Confederate Army and rose to the rank of captain. Franklin became a farmer in Missouri after he was unable to return to his law practice because of restrictions placed on former Confederates. In 1868, he was allowed to return to law, and Franklin started a new practice in Kansas City. He served in the United States House of Representatives from 1875 to 1879, and as the consul for China from 1885 to 1889. After a brief stay in California, Franklin and his family moved to Phoenix in 1892.
In 1896, President Grover Cleveland appointed Franklin, a loyal supporter, to be Territorial Governor. When William McKinley became President, he replaced Franklin with Myron Hawley McCord. After the governorship, Franklin started a law practice with his son Alfred in the Fleming Building in Phoenix. In 1898, Franklin died of heart trouble at his home in Phoenix. In Arizona, he was commonly known as B.J. Franklin.
---
Scope and Content Note
This collection contains bound copies of Governor B.J. Franklin's letters while serving as Territorial Governor.
---
Access Restrictions
All photocopies of original materials are made by staff. We reserve the right to refuse copy services based on physical condition and possible damage to the materials.
For preservation purposes, if microfilm copies are available, patrons will use the microfilm first.
Under Arizona Revised Statute 39-141, public records used for commercial purposes have additional requirements. Please contact the Arizona State Archives for further information.
Copyright
It is the researcher's responsibility to determine the copyright status of materials he or she uses. The Arizona State Library, Archives and Public Records is not legally or financially responsible for any copyright infringement by researchers.
Many documents held by the Arizona State Archives come under the Public Record law (ARS 41-1350). Documents created by the government are not copyrighted. The United States of America Copyright Law (P.L. 94-553, effective Jan. 1, 1978) extends statutory rights of authority to unpublished works which were previously protected by literary property rights under common law. Such works do not have to be registered with the Copyright Office to receive protection under the law.
---
For related material consult Secretary of the Territory (RG 6).
---
Access Terms
Personal Name(s)

Franklin, Benjamin Joseph.
Subject(s)
Arizona. Governor's Office.
---
Credit Line
Bibliographic citations must cite the title of the record group(s), the box or volume number, the History and Archives Division and the name of the Arizona State Library, Archives and Public Records in full. Please use the following example:
Governor George W.P. Hunt to Ely Sims, November 21, 1919, Box 14, Office of the Governor, RG 1, History and Archives Division, Arizona State Library, Archives and Public Records.
---
Container List
Letters of Governor B.J. Franklin
Volume
General Letters of Governor B. J. Franklin, March – July 1897
General Letters of Governor B. J. Franklin, April 18, 1896 – September 30, 1896
General Letters of Governor B.J. Franklin, September 30, 1896- March 10, 1897
Official Correspondence with Washington D.C., Governor B. J. Franklin, July 18, 1896 – July 22, 1897