Bookmark this page or copy and paste URL to Email message
Arizona State Legislature, Members' Papers, Carl Kunasek, RG 97 SG 6, 1983-2008
RG 97 SG 6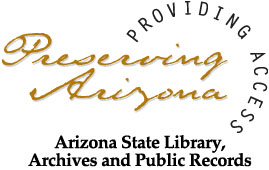 Creator:
Kunasek, Carl James, 1932-
Title:
Arizona State Legislature, Members Papers', Carl Kunasek, RG 97 SG 6
Inclusive Dates:
1983-2008
Quantity:
4 linear feet
Abstract:
This collection contains Carl Kunasek's papers from his time in the Arizona State Legislature and Arizona Corporation Commission. The majority of the legislative papers are from his tenure in the Senate and focus on Evan Mecham's impeachment, healthcare, and Arizona's bid to get a superconductiong super collider. His Arizona Corporation Commission papers deal with the invesitagation into fellow Commissioner Jim Irvin.
Identification:
RG 97 SG 6
Language:
English
Repository:
Arizona State Archives
Arizona State Library, Archives and Public Records
Polly Rosenbaum Archives and History Building
1901 W. Madison Street
Phoenix, Arizona 85009
Phone: (602) 926-3720
Fax: (602) 256-7982
E-Mail: archive@lib.az.us

---
Historical Note
Carl Kunasek moved to Arizona in 1961 and received his B.S. in Pharmacy in 1955 from Creighton University in Omaha. He owned and operated three pharmacies in Mesa between 1966 and 1983. In 1972, Kunasek was elected to the Arizona House of Representatives and was re-elected another four times, serving until 1982. In 1983, he was elected to the Arizona State Senate and served until 1989. From 1987 to 1989 Kunasek was the Senate President and oversaw the Court of Impeachment against Evan Mecham.
After leaving the State Senate, United States President George W. Bush appointed Kunasek Commissioner of the Navajo and Hopi Relocation Commission from 1990 to 1994. In 1994, he returned to Arizona government when he was elected an Arizona Corporation Commissioner and held that position until 2001.
---
Scope and Content Note
This collection contains Carl Kunasek's papers from his time in the Arizona State Legislature and Arizona Corporation Commission. The majority of the legislative papers are from his tenure in the Senate and focus on Evan Mecham's impeachment, healthcare, and Arizona's bid to get a superconductiong super collider. His Arizona Corporation Commission papers deal with the invesitagation into fellow Commissioner Jim Irvin.
---
Series List
---
Access Restrictions
All photocopies of original materials are made by staff. We reserve the right to refuse copy services based on physical condition and possible damage to the materials.
For preservation purposes, if microfilm copies are available, patrons will use the microfilm first.
Under Arizona Revised Statute 39-141, public records used for commercial purposes have additional requirements. Please contact the Arizona State Archives for further information.
Copyright
It is the researcher's responsibility to determine the copyright status of materials he or she uses. The Arizona State Library, Archives and Public Records is not legally or financially responsible for any copyright infringement by researchers.
Many documents held by the Arizona State Archives come under the Public Record law (ARS 41-1350). Documents created by the government are not copyrighted. The United States of America Copyright Law (P.L. 94-553, effective Jan. 1, 1978) extends statutory rights of authority to unpublished works which were previously protected by literary property rights under common law. Such works do not have to be registered with the Copyright Office to receive protection under the law.
---
For additional materials in the Arizona State Archives please consult the following collections: Office of the Governor RG 1, and State Legislature RG 97. The State Archives also has an oral history interview with Carl Kunasek in its Legislative Oral History collection.
---
Access Terms
Personal Name(s)

Kunasek, Carl James.
Mecham, Evan.
Corporate Name(s)
Arizona Corporation Commission.
Geographic Name(s)
Arizona.
Subject(s)
Arizona Health Care Cost Containment System.
Mecham, Evan-Impeachment.
---
Accession Number
A-2008-21, A-2010-14.
---
Credit Line
Bibliographic citations must cite the title of the record group(s), the box or volume number, the History and Archives Division and the name of the Arizona State Library, Archives and Public Records in full. Please use the following example:
Governor George W.P. Hunt to Ely Sims, November 21, 1919, Box 14, Office of the Governor, RG 1, History and Archives Division, Arizona State Library, Archives and Public Records.
Processing Information
The majority of materials from Kunasek's legislative career were in titled folders and Archives staff retained those titles when re-housing the collection. Archives staff noted that in some instances folder titles did not completely reflect the materials within them. In the finding aid, staff identified the varying materials that could be found in those folders while retaining their original titles. There is an overlap between Kunasek's personal and professional correspondence and Archives staff decided not to disrupt their original order. Researchers are encouraged to look through both types of correspondence.
---
Container List
Series 1, Sub-series 1: Legislative Correspondence
Box
1:01
Correspondence, 1983
Box
1:02
Correspondence, 1985
Box
1:03
Correspondence, 1986
Box
1:04
Senate Correspondence with Governor, 1987
Box
1:05
Senate Correspondence with Governor, 1987-1988
Box
1:06
Governor's Vetoes, 1988
Box
1:07
Correspondence-Mixed legislative and personal, 1988
Box
1:08
Republican Party, 1985-1988
Series 1, Sub-series 2: Healthcare
Box
1:09
Human Engineering, 1982
Box
1:10
Clinical Pharmacists, 1983-1986
Box
1:11
Pharmacy Practitioners/Board of Pharmacy recommendations, 1987-1988
Box
1:12
National Conference of State Legislature-Mental Health Advisory Committee, 1985-1988
Box
1:13
Nutrasweet, 1985-1988
Box
1:14
Flinn Foundation (Healthcare), 1983-1987
Box
1:15
Greater Phoenix Affordable Healthcare Foundation, 1987-1988
Box
1:16
Pharmaceutical Manufacturers Association Legislative Conference, 1988
Box
1:17
State of Arizona v. United States deposition (AHCCS), 1990
Box
1:18
History of AHCCCS, , 1981 2008
Series 1, Sub-series 3: Governor Mecham Recall and Impeachment
Box
1:19
Mecham news releases and correspondence, 1986-1988
Box
1:20
Mecham promissory notes, 1988
Box
1:21
Arizona Executive Budget, 1988
Box
1:22
Governor Mecham staff information, nd
Box
1:23
Martin Luther King Holiday correspondence/Anti recall petition, 1988
Box
1:24
Mecham Recall-expenses, 1988
Box
1:25
Court of impeachment Rules of procedure drafts, 1988
Box
1:26
Impeachment Court Rules of Procedure, 1988
Box
1:27
Mecham impeachment, French Report, 1988
Box
2:28
Mecham impeachment court filings, 1988
Box
2:29
Trial memorandum article 1and 3, 1988
Box
2:30
Mecham impeachment court exhibits, 1988
Box
2:31
Mecham Impeachment-Governor's budget, recall reimbursement, impeachment correspondence, 1987-1988
Box
2:32
Mecham impeachment correspondence, motion, notes, 1988
Box
2:33
Mecham impeachment trial handwritten notes, 1988
Box
2:34
Mecham impeachment trial script, 1988
Box
2:35
Impeachment trial correspondence, Phoenix Area, 1988
Box
2:36
Impeachment trial correspondence, Tempe Area, 1988
Box
2:37
Impeachment trial correspondence, Valley Area, 1988
Box
2:38
Impeachment trial correspondence, Outside Valley Area, 1988
Box
2:39
Impeachment trial miscellaneous correspondence, 1987-1988
Box
2:40
Impeachment trial correspondence, Mesa Area, 1988
Box
2:41
Mecham impeachment court photographs, 1988
Series 1, Sub-series 4: Superconducting Super Collider
Box
2:42
Superconducting Super Collider, 1987-1988
Box
2:43
Superconducting Super Collider, 1988
Box
3:44
Superconducting Super Collider, 1988
Box
3:45
Superconducting Super Collider, 1988
Box
3:46
Superconducting Super Collider, 1988
Box
3:47
Superconducting Super Collider, 1988
Box
3:48
Superconducting Super Collider, 1989
Series 1, Sub-series 5: General Legislative Files
Box
3:49
Kunasek pre-Senate leadership, 1984-1985
Box
3:50
Legislative Computer System, 1986-1987
Box
3:51
Low Level Waste, 1987
Box
3:52
Grand Jury, 1988
Box
3:53
Let's Talk Arizona Tour, 1987
Box
3:54
Speeches, 1983-1988
Box
3:55
Newspaper articles/ Press releases, 1985-1988
Box
3:56
Kunasek Voting history, 37th Legislature, 2nd Session, 1986
Box
3:57
Senate, 1987-1988
Box
3:58
Appointment Books, 1987-1988
Box
3:59
AZSCAM indictment, 1991
Box
4:60
Newspaper articles, nd
Series 2: Arizona Corporation Commission
Box
4:64
Arizona Corporation Commission, 2000-2006
Box
4:65
Arizona Corporation Commission-Commissioner Jim Irvin Investigation, 1999-2000
Box
4:66
Irvin investigation newspaper articles, 2002
Box
4:67
Arizona House of Representatives, Irvin investigation report, Volume 1, 2003
Box
4:68
Arizona House of Representatives, Irvin investigation report, Volume 2, 2003
Box
4:69
Irvin investigation, Jack D. Rose deposition, 2003
Box
4:70
Southern Union vs. Southwest Gas, court order, 2003
Box
4:71
Southern Union vs. Southwest Gas, Kunasek deposition, Volume 1, 2001
Box
4:72
Southern Union vs. Southwest Gas, Kunasek deposition, Volume 2, 2001
Box
4:73
Southern Union vs. Southwest Gas, Kunasek deposition, Volume 3, 2001
Box
4:74
Southern Union vs. Southwest Gas, Court transcripts, pages, 4237-4810 2002
Box
4:75
Southern Union vs. Southwest Gas, Court transcripts, pages, 4815-5143 2002
Series 3: Personal
Box
4:76
Personal Correspondence, 1983-1988
Box
4:77
Biography/Resume, nd
Box
4:78
Congressional Race and re-election articles and correspondence, 1986
Box
4:79
Congressional Race, 1986 1986
Box
4:80
Election, 1988 1988