Bookmark this page or copy and paste URL to Email message
Arizona Genealogical Advisory Board, MG 71, 1995-2005
MG 71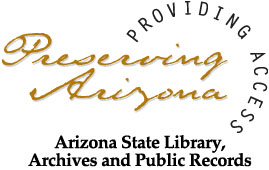 Creator:
Arizona Genealogical Advisory Board

Title:
Arizona Genealogical Advisory Board
Inclusive Dates:
1995-2005
Quantity:
3 Linear Ft.
Abstract:
This collection contains the applications forms and supporting documents for the Arizona Pioneer Certificate program, between 1995 and 2005.
Identification:
MG 71
Language:
English
Repository:
Arizona State Archives
Arizona State Library, Archives and Public Records
Polly Rosenbaum Archives and History Building
1901 W. Madison Street
Phoenix, Arizona 85009
Phone: (602) 926-3720
Fax: (602) 256-7982
E-Mail: archive@lib.az.us

---
Historical Note
The Arizona Genealogical Board is a group that strives to promote the study of geneaology and history among organizations and individuals. They often work with genealogical societies, libraries with genealogical collections, as well as professionals and the general public.
---
Scope and Content Note
The three boxes of materials contain 310 sets of Arizona Pioneer Certificate application forms and supporting documentation. Pioneer certificates recognize direct descendents of pioneers who lived in the geographical area that is now Arizona, prior to statehood, February 14, 1912. Candidates must submit proof that the ancestor resided in the area and the relationship to the ancestor.
---
Access Restrictions
All photocopies of original materials are made by staff. We reserve the right to refuse copy services based on physical condition and possible damage to the materials.
For preservation purposes, if microfilm copies are available, patrons will use the microfilm first.
Under Arizona Revised Statute 39-141, public records used for commercial purposes have additional requirements. Please contact the Arizona State Archives for further information.
Copyright
It is the researcher's responsibility to determine the copyright status of materials he or she uses. The Arizona State Library, Archives and Public Records is not legally or financially responsible for any copyright infringement by researchers.
Many documents held by the Arizona State Archives come under the Public Record law (ARS 41-1350). Documents created by the government are not copyrighted. The United States of America Copyright Law (P.L. 94-553, effective Jan. 1, 1978) extends statutory rights of authority to unpublished works which were previously protected by literary property rights under common law. Such works do not have to be registered with the Copyright Office to receive protection under the law.
---
Controlled Access Terms
Corporate Name(s)
Arizona Genealogical Advisory Board
---
Accession Number
A-2002-30, A-2006-27.
---
Credit Line
Bibliographic citations must cite the title of the record group(s), the box or volume number, the History and Archives Division and the name of the Arizona State Library, Archives and Public Records in full. Please use the following example:
Governor George W.P. Hunt to Ely Sims, November 21, 1919, Box 14, Office of the Governor, RG 1, History and Archives Division, Arizona State Library, Archives and Public Records.
Processing Information
There is a Descendent Index to the first two boxes of this group. Please see a staff member from the Arizona State Archives to receive more information.
---
Container List
Pioneer Certificate Files
Box
1
1-99, Pioneer certificate application forms and supporting documentation, 1995-2000
Box
2
100-174, Pioneer certificate application forms and supporting documentation, 2000-2001
Box
3
175-310, Pioneer certificate application forms and supporting documentation, 2002-2005