Bookmark this page or copy and paste URL to Email message
Amanda Graham Correspondence, 1907–1910
2010.20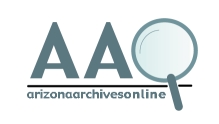 Creator:
Amanda Graham
Title:
Amanda Graham Correspondence, 1907–1910
Inclusive Dates:
1907-1910
Quantity:
.25 linear feet
Abstract:
Amanda Graham was a Tucson resident during the Arizona Territorial period, which dated from February 24, 1863 to February 14, 1912 when Arizona officially became a state. The incoming postal materials span from 1907–1910. The correspondence in this collection provides a snapshot of the life experiences of Amanda Graham, a woman living in the Arizona Territory during the early 1900s, along with those of her family and acquaintances located throughout various regions of the country. Family news, health, and crop growth are a few of the topics discussed. The collection also includes a few pieces of business correspondence, such as bills and credit notifications. From a postal history perspective, the envelopes may be of interest because of the flag cancels and Tucson Territorial backstamps.
Identification:
2010.20
Language:
English.
Repository:
Peggy J. Slusser Memorial Philatelic Library
Postal History Foundation
920 N. 1st Ave.
Tucson, AZ 85719
Phone: 520-623-6652 x107
Fax: 520-623-3810
E-Mail: slusser.library@gmail.com

---
Biographical Note
Amanda Graham was a Tucson resident during the Arizona Territorial period, which dated from February 24, 1863 to February 14, 1912 when Arizona officially became a state. The incoming correspondence spans from 1907–1910.
---
Scope and Content
This collection provides a snapshot of the life experiences of Amanda Graham, a woman living in the Arizona Territory during the early 1900s, along with those of her family and acquaintances located throughout various regions of the country. Family news, health, and crop growth are a few of the topics discussed. The collection also includes a few pieces of business correspondence including bills and credit notifications.
---
Conditions Governing Access
None.
Conditions Governing Use
It is the responsibility of the user to obtain permission to publish from the owner of the copyright (the institution, the creator of the record, the author or his/her transferees, heirs, legates, or literary executors). The user agrees to indemnify and hold harmless the Postal History Foundation, its officers, employees, and agents from and against all claims made by any person asserting that he or she is an owner of copyright.
---
Controlled Access Terms
Personal Name(s)

Graham, Amanda.
Subject(s)
Arizona -- History .
Cancellations (Philately) -- United States.
Postal History Foundation.
Postal Service -- Arizona -- History.
Tucson (Ariz.) -- History.
---
Custodial History
Unknown
Preferred Citation
Amanda Graham Correspondence, 1907–1910. Postal History Foundation.
---
Container List
box
folder
1
1
Personal and Business Correspondence