Bookmark this page or copy and paste URL to Email message
William Bladen Jett autobiography, 1938-1940
AZ 312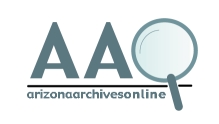 Creator:
Jett, William Bladen, 1858-1941
Collection Name:
William Bladen Jett autobiography,
Inclusive Dates:
1938-1940
Physical Description:
1 item, 186 leaves
Abstract:
Reminiscences of boyhood in Virginia during the Civil War; service with U.S. Army, chiefly at Ft. Huachuca and Ft. Stanton; cattle ranching in the San Pedro Valley, Ariz.; employment in Phoenix as a teamster; ministerial student at Randolph-Macon College, Ashland, Va.; and 39 years as a Methodist minister.
Collection Number:
AZ 312
Repository:
University of Arizona Libraries, Special Collections
PO Box 210055
Tucson, AZ 85721-0055
Phone: 520-621-6423
Fax: 520-621-9733
URL: http://speccoll.library.arizona.edu//

---
Biographical Note
William Bladen Jett was a Methodist minister and served with U.S. Army, 4th Cavalry in Ariz. and N.M.
---
Scope and Content Note
This manuscript includes reminiscences of Jett's boyhood in Virginia during the Civil War; his service with the U.S. Army, chiefly at Ft. Huachuca and Ft. Stanton; cattle ranching in the San Pedro Valley, Ariz.; his employment in Phoenix as a teamster; his studies while a ministerial student at Randolph-Macon College, Ashland, Va.and 39 years serving as a Methodist minister until his retirement in 1929.
---
Restrictions
None.
Copyright
It is the responsibility of the user to obtain permission to publish from the owner of the copyright (the institution, the creator of the record, the author or his/her transferees, heirs, legates, or literary executors). The user agrees to indemnify and hold harmless the Arizona Board of Regents for the University of Arizona, its officers, employees, and agents from and against all claims made by any person asserting that he or she is an owner of copyright.
---
Access Terms
Corporate Name(s)
United States. Army. Cavalry, 4th -- History
Geographic Name(s)
Fort Huachuca (Ariz.) -- History
Fort Stanton (N.M.) -- History
Subject(s)
Apache Indians -- Wars, 1883-1886
Methodist Church -- Virginia -- History
Ranch life -- Arizona
Genre Form(s)
Manuscript
---
Credit Line
William Bladen Jett Autobiography(AZ 312). Special Collections, University of Arizona Libraries.
---
Container List
box
folder
1
1
Unpublished manuscript of William Bladen Jett's autobiography. , 1938-1940